Flower Design of Britain

Flower Design of Britain is a flower school to provide professional floristry training courses in the U.K.
We are celebrating 70 years of anniversary this year and we had become the oldest educational institution.

Location
Main flower studio, centre of excellence and learning loctes in Weston-super- Mare.
Overseas studios are in Bangkok / Pattaya Thailand and Tokyo by appointments.
Workshops are also provided in other locations such as London/Malvern upon arrangements.
Floristry courses
Our Floristry Courses are designed to meet the requirements of the fast changing flower world for today's students. We offer a comprehensive schedule throughout the year plus carefully crafted specialized courses. From basic to advanced levels, classes are available from 2-days floristry art and craft to 6 weeks long term class for all aspects of floristry. Master florist courses in 5 different levels.

We focus on more commercial aptitude of success and each course is carefully planned by our well experienced team.
Our floristry training comes from a base of Qualification. We only have qualified teachers with an academic background and educationally certificated. Limit student numbers per class so as to ensure individual attention and a successful portfolio with Certificate.

Our students
We would like to give you all the necessary floristry skills to continue and pass on through your chosen careers. During our floristry courses, student will develop and acquire a greater understanding in the basic principals of floral design. Confidence comes through education and our students over the years have proved this by their success in florist business, teaching, authors and commercial design work.

Updation and news
Thailand Pttaya class schedule posted New

Christmas Design course New
3 days
Dates: 5th(Thur) - 7th(Sat) / 9th(Mon) - 11th(Wed) Dec, 2019
Fee: 390GBP includes flowers and materials

The most exciting and beautiful holiday season will soon to start.
This 3 days course focuses on Christmas designs for home. Traditional centrepiece, welcome flower, flowers for party or buffet table or door spray using materials from the mother earth.
There are many easy ways to create beautiful decorations. Join us and get inspired!

Inquiry and reservation: info@fdb-flower.com
Classic Natural Flower course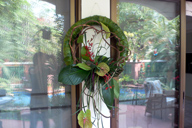 2019 course schedule