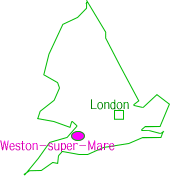 The Flower School was founded in 1949 as a floristry education institution by Rona and Stanley Coleman. They trained boys and girls in the art of floristry during the post-war Britain, where the Britain came from in the name. The school was taken over by Barbara Shakespeare and Geoffrey Hughes in 1992, who then incorporated Chihiro Hidaka of Tokyo. The school has been contributing to the industry for over 68 years and is now the oldest floristry training school in the U.K. With our enthusiasm it is still successful and vibrant in the 21st century as it has been in the past.

Our main studio is in Weston-super-Mare with the Principal, Geoffrey Hughes. Barbara Shakespeare teaches fundamentals of floristry and shares her experience. Geoffrey runs inspirational floral design courses such as introduction to design to master classes. From November till end of March, his class is also available in Pattaya. Our studio in Tokyo runs with Chihiro Hidaka throughout the year by arrangement. Demonstrations and classes can be provided in London as well as outside England to support students who wish to gain modern floristry techniques.

In today's floristry industry there has developed a demand for corporate weddings, this in turn has created a further dedicated industry for florists. We are offering training in the structure and delivery for event planning for this high demanding field of floristry.

All Floristry training given is to the highest standard and complies to the requirements that would be needed to work as professional florists .

FDB facilitates and encompasses all aspects of the floral industry. To develop individual skills of each student and companies they represent, to the highest possible standard of floristry.
The flower school aims to send our students away with a complete sense of fulfillment in their own ability.
120 High Street, Worle
Weston-super-Mare
N. Somerset BS22 6HD

England
Flower Design of Britain
32nd St. James Road
Malvern Worcestershire WR14 2TS, England
Financial Consultant: Bryan Wedge, FCA
info @ fdb-flower.com
Japan
Flower Design of Britain Tokyo
2-23-2 Shimizugaoka
Fuchu, Tokyo, Japan 183-0015
Director: Chihiro Hidaka
Tel: 042-363-8299
Fax: 042-363-8255
homepage http://fdb.jp
info @ fdb.jp

Please let us help you to choose suitable courses for your career!