FLOWER DESIGN OF BRITAIN EUROPE SCHOOL 2015

Contemporary floral design master class

27 - 30 June, 2015
Weston-super-Mare
Course fee £680

This course aims to provide our students with a wider knowledge on a diverse range of modern floristry and techniques. The course will take place in the beautiful seaside town of Weston-super-Mare. Each year we try and give you new conceptions on design. This year is no different, great ideas from the Flower Design team! The summer school for 2015 will be introducing new approaches of bringing flowers together utilizing containers and accessories in a way not seen in everyday designs. The creative designing aspect of the course enables students to develop their own thinking and unique ideas. This is the vision of our Master designers and teachers.

Our visiting designer and renowned U.K. Judge Lynda Owen will once again excite students with up to date floral fashion as only seen by her in the world of international competition. Just not to be missed!

Tutors will give a demonstration during the morning and after lunch hands on yourselves. Our teaching pattern is very intensive. We send all the students away with the satisfaction of being able to work and deliver designs for themselves in every course.

We bring forward our Autumn school to the Summer. Some of our students those from abroad would like to go to the fabulous Hampton Court Flower Show at the end of the summer school. You will be able to book the flower show in advance, plus please remember you are near London and accommodation needs to be dealt with early.

Day 1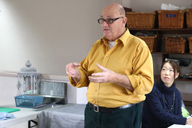 Geoffrey Hughes, M.F.
Fascinating beauty of flowers
Geoffrey will use vegetal ornaments, which are unique and adapt design with floral art as felt and seen through his eyes, your mind will be thinking what is this he will then give you an ornament to work with.
27th of June 9:30 - 16:00


Day 2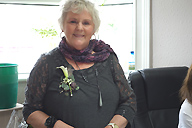 Lynda Owen, N.D.S.F and floristry Judge
She will deliver her own class with up to date modern thinking .
28th of June 9:30 - 16:00





Day 3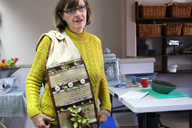 Barbara Shakespeare, N.D.S.F F.S.F. M.F.
Summer Wedding
The principal of the school will be demonstrate UK summer flowers in wedding work and accompaniment that can be added. She will show students how to construct wedding bouquet useing summer flowers with foliage plants and sundries that are available. This lesson will give our students a real buzz and hands on. Would you like to use sweet peas for a bridal bouquet? Yes, those are nice but not easy!
29th of June 9:30 - 16:00


Day 4
Geoffrey Hughes, M.F. and Barbara Shakespeare, N.D.S.F F.S.F. M.F.
Hand-ties and Design arrangements
Both will be working with difficult flower heads and how to use them in Hand-tied bouquets and design arrangements.
30th of June 9:30 - 16:00


Designer of the year
Entry to the course
This course caters for students who would like to challenge something new in the industry and are aiming to obtain further knowledge of the latest floristry techniques. It doesn't matter if you are a professional florists or not, but requires some knowledge of floristry. We welcome everybody who has great passions for flowers!
Entry form
From previous classes
2014 class | 2013 class | 2012 class | 2011 class | 2010 London class | 2009 London class