FLOWER DESIGN OF BRITAIN LONDON 2010 INTERNATIONAL SCHOOL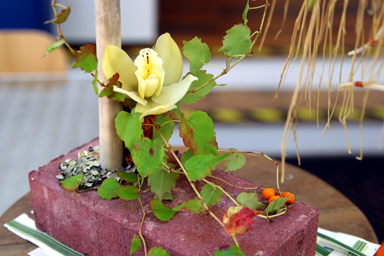 We will be again holding the workshop in the heart of London's Hammersmith in a prestigious residence. Bright and spacious studio opening on to lovely gardens, which complements a good learning environment.
This years school will be promoting innovation through Design exploring new techniques with accompanying new products now on the market.
The team
Lynda Owen will be one of our guest Designers, she is World renowned for her role as an International Judge Authoress, and Gold Medalist herself in many competitions. We will look forward to her latest thinking in modern Design. She will give us a first hand judges experience of the wonderful designs from Chelsea flower show this year. Lynda Owen Featured Floral Content
Barbara Shakespeare will once again bring to her teaching new and interesting Commercial products, and the correct and most cost efficient way of using them.
Chihiro Hidaka Guest Designer from Japan will give students a lesson on oriental style design with unique materials from the nature, combining with contemporary design concepts of the flower school.
Geoff Hughes will once again push the parameters in Design advancement.
There is limited accommodation at the course, early booking for the schooling is advised. Prospective students should book early to avoid disappointment.
The Theme : Innovation through Design
Innovation in Design, is being able to turn a simple product, plant material or flower into a design. Exploring the different ways the Product can be put to artistic use, many every day object are looked at for their pacific use. For example, wool for knitting, fan for fanning, parasol for carrying. Slate with all its fun textures can be incorporated into modern design thinking. We on this course will be posing the question and exposing you to the challenge to bring the magic out of your mind.
The Innovation can also be associated with colours and new ways to explore challenging these combinations. Lynda Owen will be demonstrating just this in her tutorial. In contrast Chihiro Hidaka will in Japanese style be innovative with vegetative product.
Barbara Shakespeare will bring her thinking to new commercially available products and the use of flower and foliage shapes maintaining balance with- in the Design of the Container. Today we can see many different shapes and sizes, but how to use them is often difficult.
Geoff Hughes with his abstract thinking will tackle the less obvious of products, using his artist eye through the history of flowers. Last year students got to explore using two small house bricks two pieces of wood cotton and flower, the balance factor was extraordinary!
This course caters for students, who would like to challenge something new in the industry and are aiming to obtain further knowledge of the latest floristry techniques. It doesn't matter if you are a professional or not, but requires some knowledge of floristry. We welcome everybody who has great passions for flowers!

Hammersmith, London
October 28 - 31, 2010
4 days
£680
9:00 - 16:00
Entry form